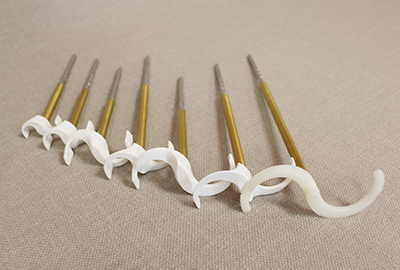 Standard Mixing Blades
The standard mixing blades used with the Unguator Technology are available in (7) seven different sizes for each corresponding jar volume. Each blade is slightly larger in diameter than the equivalent jar size, which allows the standard blades to 'sweep' the inner chamber wall, creating shear and promoting optimal amalgamation.
Further, the blades were designed with a sharp leading edge to both act as a grinding mechanism and ensure product homogeneity. The standard mixing blades achieve the finest results in all formulations. The shaft of each blade is made of a titanium-hardened NIRO stainless steel (grade 1.4301), and the winged "S" blade is cuposed of durable Derlin polyoxymehylene plastic.
Disposable Mixing Blades
The disposable mixing blades were designed at the request of practicing pharmacists and laboratory personnel who work frequently with sensitive preparations and suspensions. The disposable blades are recommended for formulations where it is critical to maintain the 'closed' environment after the mixing process.
The disposable blades are made from an inert polymide plastic and attach (clockwise) directly to appropriate blade shaft. Once the preparation is completed, the operator simply disengages (counterclockwise) the disposable blade from the shaft, leaving the blade inside the jar.
Disposable mixing blades provide excellent mixing results with minimal clean-up.